Bet On Esports In India with Vipbet360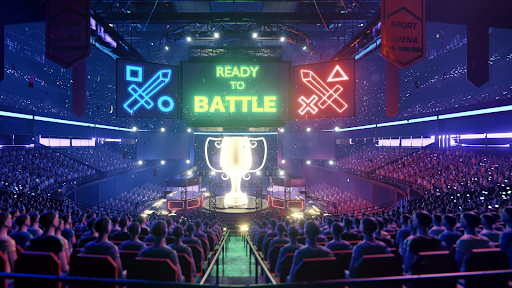 The Future of E-sport Gaming In India
India has become one of the world's biggest markets for eSports. In India, esports has grown into a competitive gaming industry with many events and big cash prizes for tournament winners. Due to the money that can be made at local eSports events, many players have turned it into their full-time job. Even though there are many eSports games to choose from, there are some that are popular and are played by many people.
The eSports industry has grown quickly in recent years, especially. This is true for both viewers and money. Esports has a wide reach, which is why many big brands and companies want to invest money in eSports marketing.
What Are Esports?
Do not think that they are like video games. In esports, different teams play games against each other in a way that is organized and follows strict rules. Users can choose which team to join based on what they like best. Today, traditional sports are very interested in eSports. Most gamers play eSports for fun, and some even use it to make a living. In addition to professional gamers, the eSports industry greatly helps content creators.
Why play Top Esports Games in India on Vipbet360 ?
Read this article to learn about the great things about playing eSports games in India through Vipbet360.
Helps Get Rid of Stress
Let us say you want to eliminate stress. ESports games are one of the best ways to do this. People who play games online with their friends will surely have a great time. At least you get a chance to take a breath and calm down. Like basketball or football, watching other pros play video games gives you enough satisfaction.
Meet New Friends
One of the best things about joining Vipbet360 is meeting new players interested in the same things you are. You can also put together a friendly competition. This encourages teamwork, which is important since most eSports are multiplayer games. As a leader, it's your job to ensure your team wins. If you are just a team member, ensure you work with your team.
Esports Helps To Enhance Critical Thinking
Deep thinking is needed to figure out how to beat your competitor. When playing eSports, especially in tournaments, the player must have the right information and make the best choice quickly.
It Helps To Boost Reflexes, Memory, and Concentration
For some eSports games, you must be good at solving problems and know how to play. This helps you remember things better and focus better. Your mind will be prompted to remember details in a short amount of time. This is why many good eSports players have good memories and find it easy to remember things. Playing eSports can also make you more willing to take risks. Players must figure out their moves and how to play well based on the situation. A player learns how to think about the pros and cons of a situation and how to weigh their options before making their next move.
Signing up with Vipbet360 will help you deal with stress, tension, and lack of focus. This is good for your health and well-being. There are many ways to take part in eSports. The best ones are listed above, so read them and pick the right one.
How to Bet on Esports for the First Time on Vipbet360 ?
It is easy to place a bet on an eSports game if you know the basics. Like sports betting, you must find the right bookie and move forward. If you have never bet real money on eSports before, use this step-by-step guide.
Choose an eSports Betting Site.
You must find the best place to bet on eSports, like host. The best place to bet on eSports should cover all or at least most of the tournaments and events in eSports. It should also offer a wide range of eSports markets with good odds. The best sites for betting on eSports have fun live betting options like live streaming and cash out. With this kind of bookie, betting on eSports will always be easy.
Create Your Betting Account
You need to make an eSports betting account before you can watch eSports content or bet on it. To do this, you must load the eSports sportsbook you want to use and fill out the registration form. After you create an account, the operator will send you an email with a link to your sportsbook account or let you go straight to the bookie's lobby.
Choose a Payment Method and Make a Deposit
When you bet on eSports, it is important to choose a payment method that works for you. Use either method to put money into your account, but make sure you meet the minimum deposit requirement.
Make your Bets
Making a bet is not a natural process. To make a prediction likely to be true, you must pick a market and learn about the eSports games events. You also need to compare the odds you have. After that, you can make a bet based on what you have learned. Once the bet slip is turned in, you must wait for the result to determine if you won or lost.
Types of Esports Tournaments
Esports are games where players compete against each other online in a well-planned competition. Almost any game can be used as long as there is a way to measure performance. Esports athletes can compete on their own or as part of a team.
The main types of esports games used in tournaments are:
Fighting Games
Fighting games are one of the most popular types of esports. Games like Mortal Kombat and Street Fighter II were some of the first big games to get national attention.
Racing Games
Top esports Game athletes take the wheel in racing games and compete against one or more other drivers simultaneously. Racing games can be realistic simulations, arcade games with cars that do not exist, or a mix of both. Racing games like Mario Kart, Need for Speed, and iRacing are all very popular.
Sports Games
Professional sports like football, basketball, baseball, and soccer are models for sports games. In either a realistic or an arcade version of the game, players compete against each other in their favorite sports. Madden football is still one of the best games for esports players.
Digital Card Games
Digital card games are played in turns, where players use cards to attack, cast spells, and do other things. Hearthstone is still one of the most popular digital card games in esports, even though it came out in 2014.
Real-Time Strategy
When playing the real-time strategy games (RTS), players compete against each other concurrently. This is different from turn-based strategy games, where the action stops after each player makes a move. Age of Empires, Company of Heroes, and Total War are all RTS games people like.
Third-Person Shooter
The camera angle in third-person shooter (TPS) games lets players see their whole character, not just their gun. Fortnite Battle Royale is one of the most popular TPS games in esports.
Top tips for playing the Best Esports Games in India on Vipbet360
If you want to get into games and esports, you should first learn the basics of the game. Then, if you want to get better, you should focus on learning how to play each game. This is important in learning how to play the game well enough to win. Here are some tips to get you started:
Follow The Game Rules.
This will make it more likely that you will win the game.
Physical Training
Working out can make a big difference in how well you play games. You can build up your stamina, handle stress better, and improve your brain function with the right training and exercise. Several studies have shown that exercise helps you get faster, pay more attention, and be more flexible. It also helps your motor skills, like reaction time and hand-eye coordination. This gives you an unfair advantage when you play games with other people.
Balanced Lifestyle
Even if you do not play games often, you should still get enough sleep and eat well. Poor nutrition can make it harder to think, make decisions, react quickly, and be healthy overall. Eating well is important to play at a higher level since a player's health affects how well they do in the game. Taking care of your body will make you more likely to win
Find the Right Game and Community:
The first step is to find the best esports games you like. You should be honest about your skills and ensure they are good. Choosing the right game is important to get into the competitive scene. Also, watch out for negative people in esports communities.
Even though many gamers are willing to help each other, some do not want to get better. If you want to win and keep up with your team, you should mute them. In esports games, the more you do the better. If you do not like your teammates, you should not join these competitions. However, you should learn to talk to them to compete at the top.
Competitive Scene
There will be good and bad times, but you must keep going. You need to know about Meta and the best ways to do things to get the best results. Even though many people want to play in and win tournaments, there can only be one winner, whether a team or a single player.
Gamers Are Made, Not Born:
In addition, taking breaks for a month or more may worsen your gaming skills. Playing moderately and regularly is the best way to improve gaming skills. You can play in tournaments only sometimes to get better and learn new strategies. For example, playing solitaire can improve your ability to think strategically, make decisions, and act quickly. This can help you do better in other games you play.
Stay on Task
One of India's most important parts of esports games is staying on task. It can take much work during a game to pay attention. If you have a plan for each day, you will be able to stay calm. However, always pay attention to signs from your body that could lead to poor performance. For example, letting your body go without food for long periods makes you less productive and gives you less energy. Before you play games, ensure you have eaten well, slept well, have a comfortable chair, and no noise will bother you.
The body of a gamer is important.
In esports, players can get hurt if they play too much. In the same way, they can also have mental problems like anxiety and depression. Therefore, to stay healthy, you should take the right steps. You need to know how the game works and how esports work. If you want to be a pro at eSports, you need to know how the game's rules affect your body. It is always a good idea to give your mind a break every hour or two.
A Gamer's Body is Important:
Playing is a way to have fun. The more likely you are to practice and improve at a game, the more you like it. The better you get at a game, the more you enjoy it. If you like it, you are more likely to keep going. When you like something, it is easier to keep going with it. If you play because you enjoy it, you will be more likely to get the high scores you want.
Future of Esports in India
Live streaming will be accepted by the gaming and esports industries, leading to more people watching. Because of regional and real-time streaming of gaming content, a strong, large, and varied group of fans will grow.
Because of this, their popularity and number of viewers will go up. India has the best demographics regarding young people and communities that work together. It is a growing esports game and video game market because of the content and tech-savvy people living there.
FAQs
Is it legal to bet on eSports in india?
No, betting on esports in India is not legal. Many international and national esports betting platforms are not licensed for betting operations in India.
Can I bet on eSports in Indian Rupees?
It may depend on the Esports in India betting site you are trying to use, but some of the international online sports betting websites like Gobhai247 allow betting on eSports, and may also allow you to place bets in Indian Rupees.
Are eSports earnings taxed in India?
As there is no legal framework for online sports betting in India including Esports, there is no information available on whether or not eSports earnings would be taxed in India.
What are the payment methods for Esports betting sites for Indians?
Payment methods for Esports betting sites for Indians may include credit cards, e-wallets, bank transfers, and other electronic payment methods. It is recommended to check the payment method before opening a betting account on a sports betting platform for Esports in India.